Beheer & Projectmanagement
Iedere campagne, zowel offline als online, valt of staat met een weldoordacht plan. Correcte planning, een gedegen uitvoering en diverse controlemomenten zijn hierbij essentieel. Door een gebrek aan tijd, kennis of ervaring worden deze onderdelen niet altijd goed verwerkt. Op deze manier wordt het bijna onmogelijk een campagne rendabel te maken en te houden. Daarnaast kost het u op deze manier onnodig veel tijd en geld. Bee Interactive Nederland heeft meer dan 20 jaar ervaring met verschillende projecten in zowel binnen- als buitenland. Beheer & Project Management uren omvatten de volgende onderdelen binnen onze samenwerking: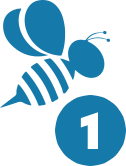 Situatie analyse:
Intake gesprek
Analyse van de website of webshop
Analyse van de webdata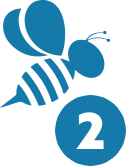 Planning:
Bepalen van de doelstellingen
Online marketing jaarplan opstellen
Inrichten mijn Bee Interactive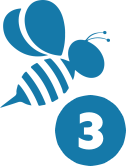 Uitvoering:
Planning uitvoeren
Optimalisaties
Rapportages
Evaluatiemomenten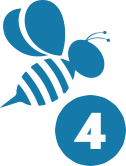 Controle:
Eventuele bijsturing in het online marketingplan afstemmen
Evaluatiemomenten
Voor het uitvoeren van het projectmanagement kunnen wij via diverse projectmanagement tools met u samenwerken, bijvoorbeeld via Google Drive of Trello. Dit stemmen wij in het intakegesprek met u af, naast dat wij de analyse van uw website met u doorspreken. Op basis van de uitgangssituatie zullen we gezamenlijk de doelstellingen bepalen ten behoeve van het online marketing jaarplan en bijbehorende roadmap. Hiernaast richten wij uw 'Mijn Bee Interactive omgeving' in, waarin u real-time en altijd de resultaten kunt bekijken. Op nader af te stemmen momenten zullen we samen de werkzaamheden evalueren en bijsturen waar nodig.
Wilt u meer weten over beheer & projectmanagement?

RUIM 20 JAAR ERVARING
Bee Interactive Nederland is inmiddels een gevestigde naam in het online medialandschap. Met ruim 20 jaar nationale en internationale ervaring haalt u met ons de juiste kennis en middelen in huis om uw online marketing strategie tot een succes te maken.

UW PERSOONLIJKE PROJECTMANAGER
Bij Bee Interactive Nederland vinden wij aandacht voor de klant heel belangrijk. Samen komen wij namelijk tot de beste ideeën voor uw bedrijf. Om ervoor te zorgen dat iedere klant de aandacht krijgt die men verdient, krijgt iedereen een persoonlijke Projectmanager binnen onze organisatie toegewezen.

DUIDELIJK OVERZICHT
Wordt u ook graag op de hoogte gehouden van uw online resultaten? Bee Interactive Nederland stuurt u maandelijks een duidelijke rapportage van uw campagnes en bespreekt deze uiteraard graag met u. Ook kunt u de werkzaamheden resultaten altijd monitoren in uw persoonlijke 'Mijn Bee Interactive' omgeving.